Commercial & Public Projects
We at Terra Vista Landscape Construction are recognized for professionalism in the industry and have therefore had the opportunity to complete projects at many commercial sites throughout the area including:
City of Kingston, Landscape Architectural Park Planning
Fifth Town Cheese Factory
The County Cider Co.
H.J. McFarland Memorial Home Master Landscape Planning
The Connor House Medical Facility, Belleville
The Manse Inn & Boutique
The County Youth Skatepark
Cherryvale Organic Farm
The Glenwood Cemetery Memorial Walkway
Pending Volunteer Projects: Alzheimers Memorial Walkway at Macaulay Mountain for Whattam's Funeral Home
Bloomfield Parks & Recreation – Memorial Pathway Project
Whattam's Funeral Home
Sandbanks Homes Development
The Claramount Inn & Spa
The Ministry of Transportation – Glenora Ferry Rejuvenation Project
Bay of Quinte Mutual Insurance Company Signage
Rotary Park of Picton
The Waring House Restaurant & Inn Patio
The County Cider Company
Renlea House B & B
Manor on Loyalist Parkway Nursing Home
West Lake Terrace Nursing Home, Phase 1 complete
Kentwood Nursing Home, Picton
Belcrest Nursing Home, Belleville
Briar Fox Golf & Country Club, Marysville
Wellington on the Lake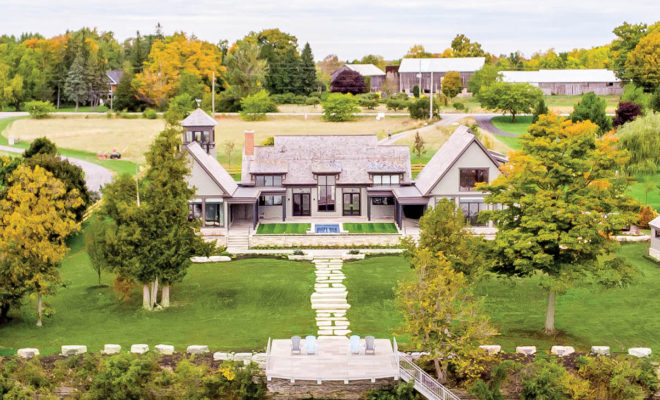 Talk with John Caliendo about his new home on Loyalist Parkway in beautiful Prince Edward County, and you're in for a bit of a history lesson. "This was once part of a farmstead of several hundred acres," he says, his sweeping arm indicating the rolling lawn surrounding the stunning 6,000-square-foot home designed by Brampton's Huis Design Studio.

Read The Full Article
We were quite pleased with landscaping and maintenance services Terra Vista provided for several years at our home in The County and so it was an obvious choice to ask Trevor to design and execute the landscaping plan for our new home in Picton. It's been an extensive project that included a waterfront. Trevor has brought a keen eye to the modern design and style we were looking for. His experienced and capable team have executed on this plan very nicely. Trevor is always available, regularly on-site and has met our timelines. The finished product is just about done and we are delighted.
We've had Terra Vista help us with our landscape designs, contracting and maintenance at two homes here in the County ....so far :)...and we've been so happy with every project. At both properties which were quite large we decided to break the project into pieces and completed a section of the overall design each year. Our first property had a more traditional design and the second one is quite modern. In both cases from the initial design stage right through to completion we have been so happy with the work done by Trevor and his team. Guests are always remarking about our beautiful yard and though I take the credit it's really all on Terra Vista!
Terra Vista did an outstanding job on the outdoor living spaces of our country home. Right from the initial planning meetings we were quite impressed with the integration of the hardscape design into the natural landscape of our property. Being in the design business my husband and I are fairly particular about our taste and material choices and Trevor and his team really impressed us with their unique design forward ideas. From budget to execution the process was professional and thorough. Our job was fairly extensive and as I witnessed, an incredible amount of exacting physical work. I was really impressed to see how hard working and collegial the Terra Vista team was putting in long hard days with big smiles on their faces. The finished product has elevated the beauty of our whole property and our outdoor living spaces have added so much enjoyment to our County getaway. We had a beautiful setting before but now it is truly is a magical paradise. Thank you Terra Vista!
The prominent slope and difficult grade of our property challenged our vision for a pool and deck area. Terra Vista applied our ideas we expressed as homeowners; and with their strong professional knowledge base, designed and created a visually aesthetic yet safe and functional pool area for us to enjoy with family and friends. We were very impressed that Terra Vista took the time and effort to come up with several design layouts and offered us various price options to choose from. The team as a whole were very courteous working along side other trades we had hired to bring the project to a reality. We would not hesitate to recommend Terra Vista's professional services, whether the scope of the project be big or small; and look forward to working with the team on future landscape projects.
We have worked with Trevor and his team at Terra Vista for the last two years in the transformation of our Ontario property and we couldn't be more pleased. The amazing designs and meticulous care that goes into our project has more than fulfilled our expectations. From the initial discussions through to the final cleanup, Terra Vista has been great. Not living in Ontario currently, we have been able to make decisions remotely with Trevor and Erin and they always came out exactly what we were looking for. Terra Vista is truly making our retirement dream home a reality. I would highly recommend anyone who is looking for quality landscaping design and execution to meet with Trevor and his team to see how their property can be maximized to its full potential.
We had an idea what we wanted as far as the nature of it – we wanted it natural, definitely not urban style, no poured concrete. We wanted natural stone and we wanted as many of the trees as possible and lots of grass. I would say it became 95 per cent exactly what happened on the first draft," Dave noted. "I mean, he's the expert and he listened to us and we listened to him and he came up with a plan we were both sort of envisioning. He probably did the nicest drawing I've ever seen of a landscape." They were here long enough they just became part of the family," Luana stated, but Dave interjected, "Part of the landscape, 'It's not only Trevor and Erin, it's their staff, Dave said. "They're experienced and so interested in what they do. They have a passion for what they do."